Offering Crabbing Gear for use on the Chesapeake Bay and Local Inland Waters
to Residents, Visitors, Tourists & Vacation Home renters that are in the
St. Michaels, Oxford, Easton, Cambridge and Kent Island areas
Details


Crabbing in our area.
As a recreational crabber, you can legally crab just about anywhere on the Chesapeake Bay, provided you are within the season; it usually runs from April to December of every year. Crabs are native to the Bay and generally plentiful given you're at the right time of year and at a good location. Typically recreational crabbing is most productive during the months of July thru September although June and October can also be good some years. The best places for our Rental Boat customers is usually in the shallow waters of nearby creeks; typically in 5 to 8 foot water depths. Not far from the marina is Harris Creek and Broad Creek offering an abundance of sheltered coves and offshoots that provide a perfect environment for crabbing. Just anchor the boat and enjoy a few relaxing hours, absorbing the serenity of our natural environment and the company of your family or friends while crabbing for dinner. It's a great way to entertain everyone for the day. So pack a lunch with drinks, buy some chicken necks and bring the family for a day the kids will remember forever.


Using crab traps.

The cages are baited (typically with chicken necks) and dropped into the water where they will spring open and lay flat on the bottom. It generally takes a few minutes for the Crabs to find the bait but once they do they'll cling to it while eating. As such about every 5 minutes the crabber will quickly pull-up on the attached line causing the cage to snap shut around the crabs while they ride to the surface and into your basket.


Using hand-lines.

The hand-lines are also baited and dropped into the water where they sink down to the bottom; then checked every few minutes. When a crab is clinging to the bait, the line will feel slightly resistant indicating that it's time to retrieve. Hand-lines require a little more skill than the traps because once a crab clings to the bait, the crabber must be careful not to scare the crab away as they are slowly pulling in on the hand-line and then catch the crab with a net. It takes coordination so it may take a few attempts before actually landing a crab but the challenge keeps it interesting and fun.

FYI - Crabbers using just hand-lines do not need a license however if you are using the crab traps then you do need a license. Please note that all of our rental Fishing and Crabbing Boats include a license which allows everyone onboard to legally fish or crab.

Below are a few links that may be of interest.
Here for Fishing/Crabbing Guide
Each Kit Contains:

> 2 Crab Traps
> 8 Hand-lines
> Extra Line for Securing Bait
> Crab Line Scissors
> 1 Crab Dip Net
> 1 Crab Basket or Bucket
> Coolers Available
> Kits are Discounted with Boat Rental


Rentals By The:

> Day, Weekend, Week.


Things To Bring:

> Bait - Chicken necks work best
> Sun Glasses
> Sun Block or Sun Screen Lotion
> Camera
> Cell Phone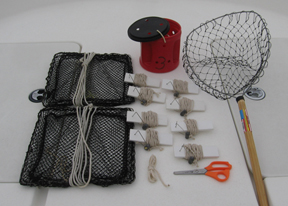 Crabbing Kit includes above.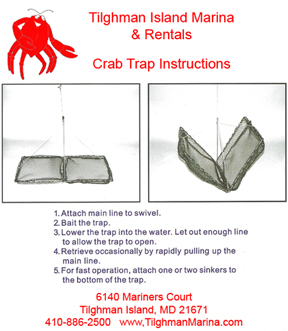 2 Crab Traps included with kit.
Click any picture to enlarge
Call 410-886-2500 for Pricing and Reservations
6140 Mariners Court, Tilghman Island, MD 21671 - www.TilghmanMarina.com
We Require Safe, Responsible and Respectful Boating at All Times